On November 1, 2021, we changed our name to Rainbow Ecoscience. Since our founding in 1997, we've continued to develop new protocols and innovative solutions for the care of woody ornamentals. We're proud to have helped so many companies expand and grow their own PHC businesses, and as they've grown, we've evolved alongside them. We've continued to innovate, broaden, and add new protocols and solutions for the care of the entire urban ecosystem. We saw an opportunity to have a name that reflected this evolution while also honoring the legacy of Rainbow.
The new name, Rainbow Ecoscience, gets us excited about the future as we continue to serve you with the plant health care support, training, and innovative solutions that you expect from us. As new and old PHC issues show up across the country, we'll be your partner as we take on the future together. Our new name represents our ongoing commitment to support you and all urban ecosystems.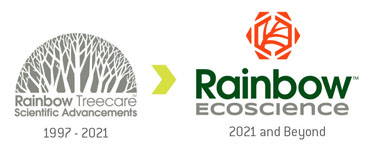 What is changing?
The website design and domain, training materials design, and other visual mediums will all have an updated look and feel that includes our new company name and logo.
What is not changing?
Our values and our fundamentals are still the same. We'll continue to have:
Customer service that focuses on your needs as the customer
Knowledgeable Territory Managers and technical support specialists to provide training and support
Delivery of science-backed protocols to serve your business
What can I expect?
You will begin to see the transition starting in Nov 2021, and all updates will be complete by the end of 2022. There will be no interruptions to shipping, invoicing, or customer support. Everyone you currently work with is still here to serve you and your plant health care needs, and their phone number will still be the same. Their email address will change; however, all emails will auto-forward to their new Rainbow Ecoscience email address.
For any questions regarding the name change, contact the Rainbow Ecoscience Solution Center