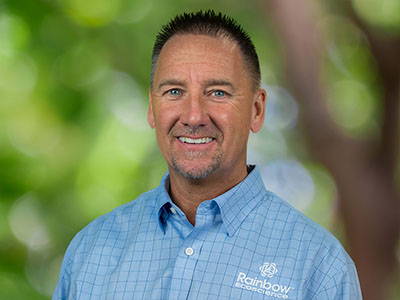 Lee Fredericks, Western Great Lakes Territory Manager (IL, WI)
312-485-9260 | lfredericks@rainbowecoscience.com | LinkedIn
Lee has over 27 years of experience in many sectors throughout the green industry including owning a tree care company, campus ground management, and commercial landscape operations management and business development. Prior to joining Rainbow, Lee worked with Brickman Group and Asplundh. Lee is passionate about building trusted relationships and delivering quality service and support. His hobbies include running, weight training, vacationing with family, weekend campfires, golfing, snowboarding, and caring for his landscape at home. His favorite trees are the Burr Oak and Ponderosa Pine for their stately nature, adaptability, and robust shapes. If Lee were hosting a dinner party and could invite any 3 guests, he would invite Theodore Roosevelt (true American statesman, soldier, naturalist, and reformer), Lee Iacocca (executive and author on innovation and the creativity of Americans), and Tommy Lee Jones (actor in over 100 movies and star of his favorite movie "Lonesome Dove").