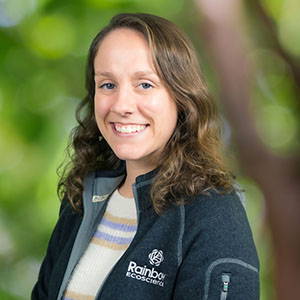 Dana Russell, Southeast Territory Manager (GA, AL, MS)
770-379-3027 | drussell@rainbowecoscience.com
Dana has five years of experience working in urban forestry at an environmental non-profit. She learned Southeastern invasive species identification by practicing effective removal techniques and treatments working in forest restoration. Dana currently resides in Atlanta, Georgia. In her free time, Dana plays on co-ed softball and ultimate frisbee teams. She also enjoys playing the drums, roller skating, and camping. Her favorite tree is the red buckeye. If she could invite any three guests to a dinner party, they would be Dolly Parton, Paul McCartney, and Oprah.