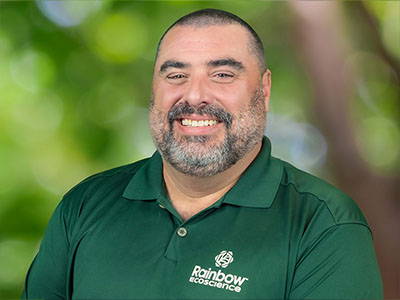 Rich Cartier, Northeast Territory Manager (MA, RI, CT, VT, NH, ME, NY)
617-895-8640 | rcartier@rainbowecoscience.com | LinkedIn
Rich has over 5 years' experience as a lawn care technician and 7 years as a Plant Health Care Technician and Coordinator prior to joining Rainbow. As the New England Territory Manager, Rich provides products, equipment, information, support, training, and education to clients in his territory. Born in Woonsocket, RI, he spent 5 years in Orlando, FL and now lives in Milford, MA. His hobbies and interests include photography, especially nature photography of large landscapes and tiny insects. His favorite shade tree is a fully mature American elm. His favorite ornamental is a Weeping Blue Atlas Cedar for its personality. The three people he would invite to a dinner party are Albert Einstein (The Genius), Thomas J. "Stonewall" Jackson (The Strategist), and Bill Murray (The Lunatic).