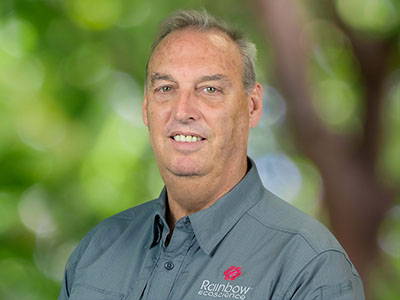 Mark Lucas, Director of Landscape Solutions
410-708-4198 | mlucas@rainbowecoscience.com | LinkedIn
Mark works with Rainbow's National Accounts. He has over 34 years of green industry experience. He's worked with Chapel Valley as the Process Improvement Manager. He has also worked with Brickman Group for over 30 years in various roles including National Account Manager, Branch Manager, and Tree Manager. Mark is dedicated to providing training, technical support, client service, and education to National Accounts across the country. He graduated from the University of New Hampshire with a B.S. in Environmental Conservation. Mark is married with 3 children. He enjoys grilling and barbecuing with his Big Green Egg. He and his wife enjoy landscaping and have most of their favorite plants in their yard. He has hiked many of the National Parks and loves to cycle. If Mark could have dinner with 3 guests, he would choose his grandfather who got him stated in the green industry, Bobby Flay, and Ansel Adams.