Posted by Rainbow on Nov 14th 2022
Minnetonka, MN – November 14, 2022 – Kaitlyn Belisle joined the Rainbow Ecoscience team on November 14, 2022, as a Territory Manager covering the upper Midwest, including Minnesota, North Dakota, and South Dakota.
Kaitlyn has over 7 years of experience in customer service in many industries across the board. Before joining Rainbow Ecoscience, she worked as a customer experience coordinator for our pest team. Rainbow enlightened Kaitlyn into the green industry which motivated her to go back to school and obtain her bachelor's degree in Environmental Science.
"I am excited to join Rainbow Ecoscience because it gives me the opportunity to combine my love of educating others and my passion for the environment" Kaitlyn shares.
Kaitlyn has lived in the Twins Cities Metro her whole life and holds Minnesota close to her heart. She enjoys weekends at the cabin, hiking through state parks, and knitting blankets. Kaitlyn has a passion for preserving the environment and is a huge animal lover. She even named her dog after her favorite tree – Cedar.
Chris Haugen says, "I am excited for Kaitlyn to Join the Rainbow Ecosience team. Her enthusiasm for learning and serving clients is immediately clear from your first conversation. We are fortunate to have her begin taking care of our clients in the territory."
Kaitlyn holds a Bachelor of Science in Environmental Science from the Southern New Hampshire University. For any plant health care technical support needs in the upper Midwest region, you can contact Kaitlyn at 612-283-1202 or email kbelisle@rainbowecoscience.com.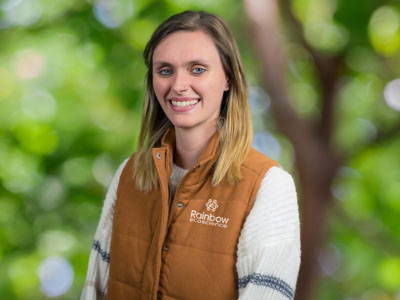 Tags